Shopping Cart
Your Cart is Empty
There was an error with PayPal
Click here to try again
Thank you for your business!
You should be receiving an order confirmation from Paypal shortly.
Exit Shopping Cart
Great news!  Last week I received an acceptance from the Raleigh Review!  I had a great time recording my poem for their online site.
Then, today... I received an e-mail saying that I was accepted into Prairie Schooner's Digital Online project for a multi-media project I created a while back.  I love the fact that they're creating an online page dedicated to multi-media poetry, which is possibly the future (and maybe savior?) of poetry.  While holding a book of print poetry is nice, if you want to capture the attention of today's youth, or those with attention-span problems (like myself), multi-media is definitely the way to go.  
Happy Thanksgiving!
A couple of interesting updates:
1.)  One of my poems was accepted by Permafrost, a magazine in Alaska, so it looks like my poem will be freezing its hind-end off.  I'm very happy to be a part of the Permafrost family, they seem like really nice people, and obviously they love literature, so they're definitely "my kind of people."
2.)  I was invited to read at the Mid-Missouri Author's Gala today.  I'm really excited to be a part of this cool event and to help promote Missouri writers and literature.  I'll be handing out free CD's of my acoustic music + a few tracks of my poetry.  It's going to be a good time.
3.)  So, lastly, the other day I received an e-mail from an old high school buddy that's in the Navy, and he was tasked to assemble a color guard for a veteran reading event at Union Station in Kansas City.  He went on to say he met with the event coordinators, and then made them read "So I Was a Coffin" and now they want me to be a part of the event.
So, this all goes to show that I am worthless without all the support of my friends and family.  And, in response, here's a video of what I do when I'm not writing:
Here's a nice interview done by the great people at One Stop Poetry:
Last night was very bitter sweet.  It was my band's last show ever.  I have very mixed emotions about it.  On one hand, I just don't have the time to commit to playing music out and about.  On the other, I'm going to miss playing with those guys so much.  It's funny to think back about the first day we all met, just jamming on the porch.  Then we got a few songs ready to do an open mic, and then we just kept progressing and playing our own music.  We became so comfortable with each other that some of our best music spawned from random jams.  Playing music in a full band gave me an incredible amount of confidence as a performer.  I'm indebted to the 'fellas for the amazing experiences we've had over the past two and a half years.  It was a hell of a ride.
A couple of great things happened recently.  Yesterday, I gave my speech as a guest speaker for the Marine Parents Care Package Project and I met the most amazing, self-less, and kind people that live in my own city.  I had some great conversations with a few military parents and some military veterans that were there.  I absolutely love meeting nice people.  It always motivates me to keep creating.
Then, I got home afterwards and found out that the new issue of Diagram is up, and I'm in it (it's up on the Publications/Events page of my website if you want to check it out).  And then, a few hours pass and I jump online once last time to see an e-mail from an editor saying he loved my work and put it up on his site that day (protestpoems.org).  This was a very blessed day full of great surprises.
And to show you how great the Marine Parents organization was, here's a pic of the amazing gift they gave me for speaking and playing a few tunes on the guitar: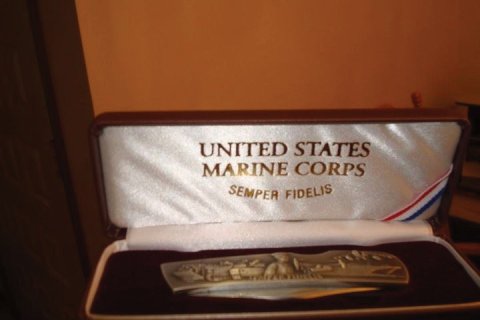 The Nashville Review did such a great job with their feature of my songs.  and their editor was cool enough to say "if you're ever in Nashville, I'll make sure you have a place to play your music."  Wow, what a compliment.  I'm also anxiously awaiting for The New Mexico Poetry Review to release.  They have a picture of the cover up on Facebook, and man oh man, it looks so nice. 
Yesterday I was featured on TogetherWeServed as the "reflection of the day", which resulted in a retired Senior Chief messaging me and telling me how he got into writing and teaching after his Vietnam experience.  That to me, is what this has all been about, getting people to connect and share their stories with the world. 
I have some great things to report.  I'm currently being interviewed by the awesome people at Marine Parents, to be featured in a future newsletter so that I can hopefully positively affect other vets returning from war and show them that there are others out there struggling to re-adjust.  Power in numbers, and such.  Then, I found out yesterday that I won the "2011 Chancellor's Award for Excellence in Leadership" through the University of Missouri.  Quite an honor that I don't think I deserve, but it's a giant leap in terms of the public opinion of veterans in the Columbia community and on the MU campus.  So yes, I'll accept it. 
I'm eagerly awaiting the publication of the spring issue of The Nashville Review which features a few of my songs and my music video.  I feel blessed to have been chosen by them.  I'm also excited about April because that's when The New Mexico Poetry Review comes out featuring two of my poems.  Also, the Blue Lotus Review will be publishing a song on their site in April.  April will be a very successful month in terms of my career, but I'm afraid it'll be a while after that before anything else happens, which is probably needed, since I have so far to go on this memoir that keeps haunting me.  My goal is not to write a war story, but instead a story of friends that go to war (I might use this line in the preface or something). 
Lastly, and sadly, my band, "Fourth and Conley" will be splitting up after the May 7th show, due to a crucial member getting a big boy job and moving to Chicago in June.  Sad day, but great for him, as he starts climbing the corporate ladder.  That's all for now.  Here comes APRIL!!!!
I finished my band's videos and finally got them up on Youtube.  We're pretty bummed we didn't win, but I thrive off of competition.  I learn more from a loss than a win.  Silver linings, and all that jazz.
Well, first of all, the good news is I just got notified that I'm having a poem published in the Barely South Review this September.  I'm pretty excited at the acceptances starting to come in. 
And, I'm finally done with the multi-media poetry video.  I experimented a lot with the live footage that I shot of my buddy Grant.  I like this one because it has more of an artistic feel, which is new for me.  I've come to the conclusion that I can't use blunt-force every time I create something.  Sometimes, I have to use finesse.  
I feel like I'm learning and creating better and better videos with each one I make.   
Whew!  I just spent eight or so hours of my life the past few days creating and mixing my song to go with the poems for my book for my multi-media project.  Now I have to find some motivation to sift through tons of video footage to finish it up.  Nothing like a blizzard to snow me in and keep me focused to constantly create.  Hopefully I'll have a rough cut by tonight.
/