Shopping Cart
Your Cart is Empty
There was an error with PayPal
Click here to try again
Thank you for your business!
You should be receiving an order confirmation from Paypal shortly.
Exit Shopping Cart
So, ever wonder what it feels like to have an entire stadium full of people cheer for you?  It feels amazing and warm and you feel respected.  Of course none of it was real, but for roughly a minute, I felt like king of the world.
Way back in June, a dear family friend of mine decided to nominate me for the Kansas City Royals and Budweiser's "Our Hero Award," which is a chance for local veterans to be recognized for their service.  So, several free tickets and a parking pass later, my family and I enjoyed watching the Royals smash the Twins 7-3.  It was great because I hadn't been to a Royals game in over a decade, and it was nice to come back to a beautifully renovated stadium, be recognized and applauded, and then watch a win.
After enjoying myself for the first four innings, they pointed their large black Jumbotron camera at me and I commenced my weird smiling and jerky waving, once again proving just how awkward of a person I am when in any type of spotlight. 
And as fun as having my face blasted across a professional sports stadium was, the most endearing moment came after the Jumbotron facetime had ended, and a little boy, who couldn't have been more than six or seven, got permission from his dad to sprint up five rows and shake my hand and tell me that he, and his father, were so "thankful" for all that I did for this country.  It was very moving and took all my restraint to not drop a few salty tears on the pavement.  Being appreciated, even years after the fact, even when it all feels like a lifetime ago, can still unsettle and reopen old wounds and feelings in a most magnificent way.
And then, of course, the game went on and the glory ended, and I couldn't help but sit there beaming and glowing, knowing that not just my service, but all my friends and platoon-mates' service was validated and worth something, to someone, and that I had such an amazing hometown city.  
Thinking back to those dusty sweaty days in the platoon-room in Iraq, receiving boxes and boxes of white socks and greeting cards, I don't think any of my friends would have believed me if I had told them then that a major league baseball team and an international beer brewing behemoth were going to thank all of us publicly someday.
And so, while the recognition that I received on that Thursday night was not just for me, but for all of those that have served, past and present, it felt good knowing that my idyllic vision of Midwest America, one that still upheld traditional morals and values and respect, still existed.  But, of course, the highlight of the night was when our baseball team proceeded to  kick some serious Minnesota butt.
You read that correctly.  I was asked to do a poetry reading for The Headstrong Project's charity fundraiser in New York City and the "headliner" who read after me was the amazing actor Jake Gyllenhaal.  Let me give you a brief play-by-play of my trip.
First off, let me explain The Headstrong Project:  an organization dedicated to providing red-tape free treatment for those suffering from PTSD (Post Traumatic Stress Disorder).  It's really an amazing concept.  If you've ever been around the military's health care system you'd know why this is such a great idea.  The military's health care system is often bogged down with thousands of members trying to get treatment from a myriad of ailments and it often lets people fall through its cracks, not necessarily maliciously, but with the massive amount of personnel it has to attend to, and the mountains of paperwork patients and medical personnel must fill out, getting proper healthcare becomes a daunting task that people don't exactly "look forward" to.
Cue The Headstrong Project and their push for immediate treatment in order to get the patient well, or at least on a road to recovery first, before everything else.  It's a "patient comes first" type of mentality and I hope it's contagious.  
Okay, so skip back to the reading.  Originally, I was supposed to show up in NYC at 11 a.m. and kick back and relax, maybe sight see for the next five hours, as the Google Hangout that was supposed to happen pre-event didn't start until 6:30 and the main shindig was at 7.  Well, for anyone that has flown to NY can attest, my flight was delayed for four hours because of "bad weather."  Wait.  It gets worse.
So, I show up to La Guardia at 4 p.m.  Not bad.  Still time to at least check in to my paid for hotel that was in the middle of downtown NYC.  
Oh what's that airline?  
You don't have my bag that happens to have MY SUIT!!!!  
Great.  
Come to find out, my flight didn't have "room on it" for my bag so they put it on a later flight.  Had to wait another hour and a half.
So, I checked in with my shuttle to the airport and learned that the shuttle isn't scheduled to show up until 6:15 p.m....time was getting really short.  At that point, I was definitely going to miss the Google Hangout, but I could still show up to the reading on time, so I did what any desperate poet would do and I changed into my suit in the airport's tiny 3' x 3' bathroom (I doubt if  those are the exact dimensions, but it sure felt like it as my broad shoulders slammed up against the stall walls and I did my best to avoid falling into the open toilet ).  
As if time wasn't short enough, as I was finally throwing my suit pants on I heard a shuttle driver call out my name in the restroom, apparently the shuttle was ten minutes early and was leaving NOW, he said.  Great.  No time to comb the hair (I was so stressed out I could feel it thinning), or brush my teeth after an entire day of hanging out in airports.
I got in the shuttle and found out that my hotel stop was the last one and that there were four other stops in front of me.  We pulled out and headed downtown from La Guardia in some beautiful rush hour traffic (sarcasm).  I made it to the first stop and decided it was time to get out and cab it because it was already 6:40.  So, not knowing where I was, I put on a New York'esque scowl on my face and angrily waved my arm around like I was swatting a swarm of bees like  I had seen some locals do when flagging down cabs, and magically, a yellow cab appeared.
So, I asked my Asian cabdriver how long it would take to get to the IAC building in Chelsea and he replied 25 minutes in this traffic.  It was 6:45.  I offered him double the cab fair if I could get there before 7.  We got there at 6:55.  Finally, something went right on this trip.
I walked into what I could only describe as a fancy New York party from the movies, or the stuff you see in Glamour Magazine (uhhhh, they're my wife's, I swear).  I walked in and a young stocky man wearing a headset and all black clothing immediately grabbed my two bags I had with me (since I couldn't check into my hotel room) and carried them to a nearby coat room while I was escorted by another man wearing all black garb to a strip of red carpet with a line of twenty or so photographers ready to snap away.
This would be my first experience with the infamous "red carpet."  This was also when I discovered that I am an incredibly unphotogenic and awkward-smiling person.  I approached the red carpet and stood at its beginning while two photographers began their shutter assault of my likeness.  Then, I was asked to take two steps to the right and two new photographers began firing away.  This repeated, two steps and two new photographers at a time, all the way until the end.  It was a miserable twenty foot journey as I knew I would look tired from the travel, and by the end of the carpet I couldn't even muster my usually wide smile.  I just did my best to look stoic.  I didn't do that well either.
By this time it was 7 on the dot.  They started the event by playing one of my war poetry videos for my friend Gary Johnston as the introduction.  I had just enough time to grab an extremely stiff Jack and Coke.  Or maybe it should've been called a Jack and ice.  I chugged half of it and began looking for my seat.
After being ushered to the "talent" table, and then not being able to find a seat because some guy's rude girlfriend was in it and informed me in a slow and loud tone, in case I didn't understand english, that this table was for "the talent."  I replied passive-aggressively with a "thanks, I can read.  I'm actually performing first.  What are you doing for this?"  
I didn't even wait for what was probably going to be a floundering and stutter'y reply as the pistons in her brain worked overtime to come up with a reply, a la Miss Teen North Carolina 2007, so I simply turned around to the table nearest the stage and asked out loud to no one in particular as I grabbed an empty seat, because nobody was going to stop me from sitting and chugging more of my Jack and ice, "is this seat taken?"  
To my surprise Jake Gyllenhaal turned around from doing something important on his phone like confirming his next mega-budget Oscar shoe-in movie deal, or possibly the equally important beating of Star Wars Angry Birds, and he looked at me and said, "Yeah dude, go right ahead," while giving me what I assumed was a large grin, although it was hidden behind the large beard he was currently sporting.  Sadly, this was the extent of our conversation for the evening.
Upon sitting, and after I gently slammed my empty drink cup down on the table, wiping my mouth with the back of my sleeve for dramatic effect, a woman dressed in all black who was also wearing a headset pointed at me as my video finished playing.  Looks like I was on.  I went up on stage. I did not trip.  I crushed the reading.  I sat back down.  
Now that may sound a bit cocky, but in reality, this is a poem I have performed/read aloud probably fifty times over the last two years.  It's memorized. The way I perform it is memorized.  Plus, a large glass of Jack Daniels on an empty stomach really helps ease the nerves.
Afterwards, some other people read their poems and then Jake Gyllenhaal took the stage and read Wilfred Owen's "Dulce et Decorum est" and did a very nice undramatic reading of it, which was great to see him do something different from the rest of us.  As he came down off the stage I gave him an awkward pat on the back and said "nice job," as if he needed any sort of affirmation of his talents from a struggling nobody poet / high school English teacher. 
Following our readings was an auction to help raise money for the free treatment of PTSD sufferers.  They raised over what I believe was $100,000 dollars, and I watched Jake Gyllenhaal personally donate $5,000 during the initial opening bid.  It's incredible what Zach (the founder and owner of The Headstrong Project) and his crew was able to pull off that night.  I felt so blessed to be a part of such a great cause, like I was actually giving something of myself to others.  It really helped me see that all those years of slaving away at writing my poems/stories with zero recognition and a giant drawer full of rejection letters (yes I keep as many as I can because I'm a masochist and it makes success stories like these that much better when I can reflect on them) actually worth it.
And to conclude this monster post I will clarify the questions I know some of you might have:
No.  I did not get Jake's number and will not be "best friends" with him like I had hoped.
Yes.  I stole the pen that Jake left on "our" table that he used to sign his check and most likely a few autographs.
For my military friends that relentlessly question my "manliness," YES - it was an open bar and I drank many more delicious drinks that night, not just the single Jack and Coke mentioned above.
Here's a video of the event:
A couple of interesting updates:
1.)  One of my poems was accepted by Permafrost, a magazine in Alaska, so it looks like my poem will be freezing its hind-end off.  I'm very happy to be a part of the Permafrost family, they seem like really nice people, and obviously they love literature, so they're definitely "my kind of people."
2.)  I was invited to read at the Mid-Missouri Author's Gala today.  I'm really excited to be a part of this cool event and to help promote Missouri writers and literature.  I'll be handing out free CD's of my acoustic music + a few tracks of my poetry.  It's going to be a good time.
3.)  So, lastly, the other day I received an e-mail from an old high school buddy that's in the Navy, and he was tasked to assemble a color guard for a veteran reading event at Union Station in Kansas City.  He went on to say he met with the event coordinators, and then made them read "So I Was a Coffin" and now they want me to be a part of the event.
So, this all goes to show that I am worthless without all the support of my friends and family.  And, in response, here's a video of what I do when I'm not writing:
My poem in Barely South Review went up this morning.  It's up on the Publications page and looks really nice.  Plus, I'm surrounded by some very talented poets, so...lots of thanks to the great editors from Old Dominion University that run that cool journal. 
The other thing I wanted to mention on here is that I had a great time at the U.S. Bank Scholarship Banquet the other night.  I was so inspired by the other recipients who have done so much for Columbia, MO.  It's refreshing to see young adults spend so much of their time trying to better their community. 
That's all folks!
I got to be involved in a nice news piece for the 10th anniversary of September 11th, (
http://www.komu.com/news/remembering-9-11-the-military-in-mid-missouri/
) for KOMU News that aired this past weekend.  It was definitely nice to be considered and to contribute for a great cause and remembrance.  Also, the amazingly kind editors at Winningwriters.com nominated a poem for a "Best of the Net 2011" award.  The contest results won't come out for quite a few months, but always nice to be thought of and nominated. 
I was waiting around for an appointment the other day (one of those "we'll be there anywhere from 8 a.m. until 2 p.m. types) when I started scribbling down a few ideas about how to help other college veterans become successful early on in their college careers.  I decided to put it to piece it together, revise it 3 or 4 times, and submit it as a guest blog to the Veterans Association website, where it was immediately accepted and they had very nice words to say about it.  It felt really great; not just having something posted, but using my words and new experiences to help other post-military college vets start achieving success.  Several other organizations have already re-posted it to their websites, and hopefully we'll see some positive results with more veterans becoming leaders in their local communities in the next year or so.
Not much to report in terms of acceptances, but I did receive a very kind and personal rejection from one of the largest and most popular poetry magazines around.  They said they loved two of my poems that almost made it into their journal.  It was kind of refreshing since all I've been receiving the last few months are formal rejections. 
On another note, I just finished hammering out a 14 pg. first draft chapter for my memoir about the first time I went unconscious during Recon training.  It needs some heavy revision, but it'll get there.  Writing it brought back some painful, yet fond memories.  Good times, friends; good times.
Hmmmm....I got a little sidetracked from the memoir the past few months.  I started writing a 2nd book of poetry.  It's really "out there" and kind of cool/unique, got around 34 pgs. of poems or so, and now I'll let that sit while I try to publish those poems and I'm heading back to the memoir.  I did some revising today of the first 30 pgs. of the book and I'm starting to feel really good about it.  It's kind of a cool experience to see these pages go from rough draft to something publishable and print-worthy.  This is the longest project I've ever attempted and at times I have problems focusing on this 24/7, but it's been a great experience so far.  I have a loooooonnnnnggggg ways to go, but I'm sure it will be worth it at the end.
Couple cool updates:
It was my first "real" photo shoot involving professional lighting and backdrops and the likes , and my first time recording audio for other people, which I had to do twice because of technical difficulties, which was interesting because I had to delve into these sensitive issues surrounding Iraq, several times.  But it was a great experience for a great cause.
2.)  I had a non-fiction essay accepted for publication next year at Chautaqua, a lit journal out of North Carolina.  This is a huge milestone in my career, because now I'm not just "pigeon-holed" as a poet, I feel like I'm a real writer, and that this memoir project is really possible.  I just have to keep my nose to the grindstone and keep plugging along. 
Thanks to everyone for all their support.  I appreciate it so much.  Hope to see you all at the "finish line" someday with a book in hand :)
A couple of great things happened recently.  Yesterday, I gave my speech as a guest speaker for the Marine Parents Care Package Project and I met the most amazing, self-less, and kind people that live in my own city.  I had some great conversations with a few military parents and some military veterans that were there.  I absolutely love meeting nice people.  It always motivates me to keep creating.
Then, I got home afterwards and found out that the new issue of Diagram is up, and I'm in it (it's up on the Publications/Events page of my website if you want to check it out).  And then, a few hours pass and I jump online once last time to see an e-mail from an editor saying he loved my work and put it up on his site that day (protestpoems.org).  This was a very blessed day full of great surprises.
And to show you how great the Marine Parents organization was, here's a pic of the amazing gift they gave me for speaking and playing a few tunes on the guitar: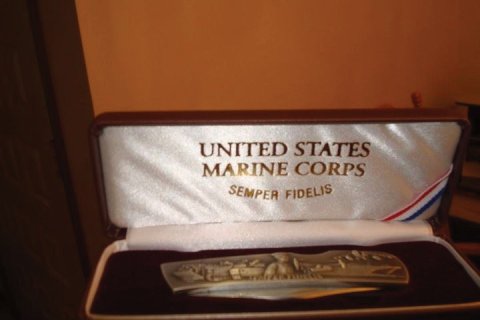 /