Shopping Cart
Your Cart is Empty
There was an error with PayPal
Click here to try again
Thank you for your business!
You should be receiving an order confirmation from Paypal shortly.
Exit Shopping Cart
I am so bad at updating my website :(   I've slowly pulled away from social media this past year and it feels great. I was getting really burnt out on the whole "writer" thing and maintaining whatever online presence and I just decided to back off and recharge.  Oddly enough, people keep inviting me to speak at things and have beer with them, so I must be doing something right...I just don't know what.
Anyways, I had a blast at the Coast Guard Academy. That was an incredible and curious crowd of cadets. They had me on my toes with some amazing questions.
I had an amazing time at Salisbury College where I got to read to a wonderful crowd of students, and best of all, I got to see my buddy John who was my first poetry professor ever. Glad to see he is absolutely crushing life and is such an amazing teacher.
What else...well, I'll be going to New York City in two weeks again to read for the Headstrong Project's fundraiser again. I have so much fun there and love putting out a positive message to help raise money for PTSD research. It's such a great cause and really gives my life meaning and direction. 

And I get to do a speech at the Columbia Writer's Guild annual conference. That's going to be a blast. I met so many great people there last year. I can't wait to see them again and make some new friends.
Okay, that was my yearly update. See you in late 2016...just joking...maybe...we'll see...
Whew! It's been a while since I've posted. That whole "life" thing can get really thick and heavy very quickly. Anyways, good news to report. I finally finished my novel that I've been slaving over....since....forever, I think.  It's been through several drafts and I feel so goooooooood about it. 
I made a trailer for it...because...I like making these things:
I just did a few readings in Kansas City and St. Louis and they were an absolute blast. The one in Kansas City was at an art gallery, and I was involved in a veterans art exhibit as a featured reader and I met some of the nicest, creative, amazing people there and then I ate my bodyweight in Kansas City BBQ. After fighting off the urge to lay down and take a nap in the parking lot, I came to the conclusion that my favorite thing about creating art is not always the art itself (which is always incredible), but meeting the people behind the art. The more great and encouraging people I meet, the more I want to keep creating and sharing. 
So, ever wonder what it feels like to have an entire stadium full of people cheer for you?  It feels amazing and warm and you feel respected.  Of course none of it was real, but for roughly a minute, I felt like king of the world.
Way back in June, a dear family friend of mine decided to nominate me for the Kansas City Royals and Budweiser's "Our Hero Award," which is a chance for local veterans to be recognized for their service.  So, several free tickets and a parking pass later, my family and I enjoyed watching the Royals smash the Twins 7-3.  It was great because I hadn't been to a Royals game in over a decade, and it was nice to come back to a beautifully renovated stadium, be recognized and applauded, and then watch a win.
After enjoying myself for the first four innings, they pointed their large black Jumbotron camera at me and I commenced my weird smiling and jerky waving, once again proving just how awkward of a person I am when in any type of spotlight. 
And as fun as having my face blasted across a professional sports stadium was, the most endearing moment came after the Jumbotron facetime had ended, and a little boy, who couldn't have been more than six or seven, got permission from his dad to sprint up five rows and shake my hand and tell me that he, and his father, were so "thankful" for all that I did for this country.  It was very moving and took all my restraint to not drop a few salty tears on the pavement.  Being appreciated, even years after the fact, even when it all feels like a lifetime ago, can still unsettle and reopen old wounds and feelings in a most magnificent way.
And then, of course, the game went on and the glory ended, and I couldn't help but sit there beaming and glowing, knowing that not just my service, but all my friends and platoon-mates' service was validated and worth something, to someone, and that I had such an amazing hometown city.  
Thinking back to those dusty sweaty days in the platoon-room in Iraq, receiving boxes and boxes of white socks and greeting cards, I don't think any of my friends would have believed me if I had told them then that a major league baseball team and an international beer brewing behemoth were going to thank all of us publicly someday.
And so, while the recognition that I received on that Thursday night was not just for me, but for all of those that have served, past and present, it felt good knowing that my idyllic vision of Midwest America, one that still upheld traditional morals and values and respect, still existed.  But, of course, the highlight of the night was when our baseball team proceeded to  kick some serious Minnesota butt.
I just received some great news that The New York Times "At War Blog" wants to publish an essay I wrote a bit ago about getting misty-eyed when a Starbucks barista went ahead and payed for my drinks when she saw I was an Iraq War veteran.  It's definitely a great milestone in my career, especially because I've been a fan of the "At War Blog" for such a long time, and let's not forget the five other times I've submitted stuff to them over the years that didn't receive that magical "yes."  Anyways, another year of high school is going to start soon.  It feels like I'm taking that last deep breath before diving underwater again, hopefully to surface in May.  I have several goals this year:
1.  Turn in all my work on time for my M.F.A. program.
2.  Finish the first draft of my novel by Christmas'ish.
3.  Keep a positive attitude, even when students and/or curmudgeonly people in my life try to destroy it.
4.  Do my best to teach my son good sportsmanship and how to learn from every match, win or lose, during this upcoming wrestling season.
5.  Read books to my baby daughter every single night before her bed time.  (She is already trying to read some poetry)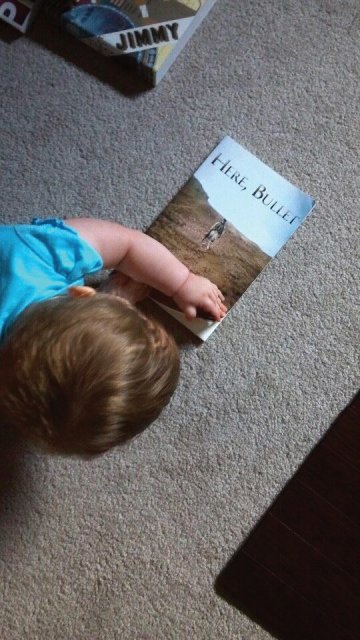 I just read an amazing book by fellow Iraq poet Hugh Martin and figured I'd let everyone know that it absolutely blew my mind.  And since "sharing is caring" I wanted to post my little mini-review here:
This book floored me.  It absolutely took me back to my Iraq deployment--the sights, the smells, the sounds, the absurdity and, at times, beauty of it all--in breathtakingly described detail.  This book is so polished and exquisite it's hard to believe it's a debut from this author.  This is a "must have" for any 21st century war collection.  It easily rivals Brian Turner's "Here, Bullet."  Read this book.  You won't be disappointed.
Get the book here:
You read that correctly.  I was asked to do a poetry reading for The Headstrong Project's charity fundraiser in New York City and the "headliner" who read after me was the amazing actor Jake Gyllenhaal.  Let me give you a brief play-by-play of my trip.
First off, let me explain The Headstrong Project:  an organization dedicated to providing red-tape free treatment for those suffering from PTSD (Post Traumatic Stress Disorder).  It's really an amazing concept.  If you've ever been around the military's health care system you'd know why this is such a great idea.  The military's health care system is often bogged down with thousands of members trying to get treatment from a myriad of ailments and it often lets people fall through its cracks, not necessarily maliciously, but with the massive amount of personnel it has to attend to, and the mountains of paperwork patients and medical personnel must fill out, getting proper healthcare becomes a daunting task that people don't exactly "look forward" to.
Cue The Headstrong Project and their push for immediate treatment in order to get the patient well, or at least on a road to recovery first, before everything else.  It's a "patient comes first" type of mentality and I hope it's contagious.  
Okay, so skip back to the reading.  Originally, I was supposed to show up in NYC at 11 a.m. and kick back and relax, maybe sight see for the next five hours, as the Google Hangout that was supposed to happen pre-event didn't start until 6:30 and the main shindig was at 7.  Well, for anyone that has flown to NY can attest, my flight was delayed for four hours because of "bad weather."  Wait.  It gets worse.
So, I show up to La Guardia at 4 p.m.  Not bad.  Still time to at least check in to my paid for hotel that was in the middle of downtown NYC.  
Oh what's that airline?  
You don't have my bag that happens to have MY SUIT!!!!  
Great.  
Come to find out, my flight didn't have "room on it" for my bag so they put it on a later flight.  Had to wait another hour and a half.
So, I checked in with my shuttle to the airport and learned that the shuttle isn't scheduled to show up until 6:15 p.m....time was getting really short.  At that point, I was definitely going to miss the Google Hangout, but I could still show up to the reading on time, so I did what any desperate poet would do and I changed into my suit in the airport's tiny 3' x 3' bathroom (I doubt if  those are the exact dimensions, but it sure felt like it as my broad shoulders slammed up against the stall walls and I did my best to avoid falling into the open toilet ).  
As if time wasn't short enough, as I was finally throwing my suit pants on I heard a shuttle driver call out my name in the restroom, apparently the shuttle was ten minutes early and was leaving NOW, he said.  Great.  No time to comb the hair (I was so stressed out I could feel it thinning), or brush my teeth after an entire day of hanging out in airports.
I got in the shuttle and found out that my hotel stop was the last one and that there were four other stops in front of me.  We pulled out and headed downtown from La Guardia in some beautiful rush hour traffic (sarcasm).  I made it to the first stop and decided it was time to get out and cab it because it was already 6:40.  So, not knowing where I was, I put on a New York'esque scowl on my face and angrily waved my arm around like I was swatting a swarm of bees like  I had seen some locals do when flagging down cabs, and magically, a yellow cab appeared.
So, I asked my Asian cabdriver how long it would take to get to the IAC building in Chelsea and he replied 25 minutes in this traffic.  It was 6:45.  I offered him double the cab fair if I could get there before 7.  We got there at 6:55.  Finally, something went right on this trip.
I walked into what I could only describe as a fancy New York party from the movies, or the stuff you see in Glamour Magazine (uhhhh, they're my wife's, I swear).  I walked in and a young stocky man wearing a headset and all black clothing immediately grabbed my two bags I had with me (since I couldn't check into my hotel room) and carried them to a nearby coat room while I was escorted by another man wearing all black garb to a strip of red carpet with a line of twenty or so photographers ready to snap away.
This would be my first experience with the infamous "red carpet."  This was also when I discovered that I am an incredibly unphotogenic and awkward-smiling person.  I approached the red carpet and stood at its beginning while two photographers began their shutter assault of my likeness.  Then, I was asked to take two steps to the right and two new photographers began firing away.  This repeated, two steps and two new photographers at a time, all the way until the end.  It was a miserable twenty foot journey as I knew I would look tired from the travel, and by the end of the carpet I couldn't even muster my usually wide smile.  I just did my best to look stoic.  I didn't do that well either.
By this time it was 7 on the dot.  They started the event by playing one of my war poetry videos for my friend Gary Johnston as the introduction.  I had just enough time to grab an extremely stiff Jack and Coke.  Or maybe it should've been called a Jack and ice.  I chugged half of it and began looking for my seat.
After being ushered to the "talent" table, and then not being able to find a seat because some guy's rude girlfriend was in it and informed me in a slow and loud tone, in case I didn't understand english, that this table was for "the talent."  I replied passive-aggressively with a "thanks, I can read.  I'm actually performing first.  What are you doing for this?"  
I didn't even wait for what was probably going to be a floundering and stutter'y reply as the pistons in her brain worked overtime to come up with a reply, a la Miss Teen North Carolina 2007, so I simply turned around to the table nearest the stage and asked out loud to no one in particular as I grabbed an empty seat, because nobody was going to stop me from sitting and chugging more of my Jack and ice, "is this seat taken?"  
To my surprise Jake Gyllenhaal turned around from doing something important on his phone like confirming his next mega-budget Oscar shoe-in movie deal, or possibly the equally important beating of Star Wars Angry Birds, and he looked at me and said, "Yeah dude, go right ahead," while giving me what I assumed was a large grin, although it was hidden behind the large beard he was currently sporting.  Sadly, this was the extent of our conversation for the evening.
Upon sitting, and after I gently slammed my empty drink cup down on the table, wiping my mouth with the back of my sleeve for dramatic effect, a woman dressed in all black who was also wearing a headset pointed at me as my video finished playing.  Looks like I was on.  I went up on stage. I did not trip.  I crushed the reading.  I sat back down.  
Now that may sound a bit cocky, but in reality, this is a poem I have performed/read aloud probably fifty times over the last two years.  It's memorized. The way I perform it is memorized.  Plus, a large glass of Jack Daniels on an empty stomach really helps ease the nerves.
Afterwards, some other people read their poems and then Jake Gyllenhaal took the stage and read Wilfred Owen's "Dulce et Decorum est" and did a very nice undramatic reading of it, which was great to see him do something different from the rest of us.  As he came down off the stage I gave him an awkward pat on the back and said "nice job," as if he needed any sort of affirmation of his talents from a struggling nobody poet / high school English teacher. 
Following our readings was an auction to help raise money for the free treatment of PTSD sufferers.  They raised over what I believe was $100,000 dollars, and I watched Jake Gyllenhaal personally donate $5,000 during the initial opening bid.  It's incredible what Zach (the founder and owner of The Headstrong Project) and his crew was able to pull off that night.  I felt so blessed to be a part of such a great cause, like I was actually giving something of myself to others.  It really helped me see that all those years of slaving away at writing my poems/stories with zero recognition and a giant drawer full of rejection letters (yes I keep as many as I can because I'm a masochist and it makes success stories like these that much better when I can reflect on them) actually worth it.
And to conclude this monster post I will clarify the questions I know some of you might have:
No.  I did not get Jake's number and will not be "best friends" with him like I had hoped.
Yes.  I stole the pen that Jake left on "our" table that he used to sign his check and most likely a few autographs.
For my military friends that relentlessly question my "manliness," YES - it was an open bar and I drank many more delicious drinks that night, not just the single Jack and Coke mentioned above.
Here's a video of the event:
I had some great news the past few days.  One:  I found out I won the national veteran writing contest in the poetry category and Brian Turner gave my winning poem a great review.  Two:  I was accepted to be a part of Ninth Letter's Online Feature for graduate students.  Three:  My wife and I finally came up with a name for our soon-to-arrive unborn daughter that is due in six weeks.
I have a lot to be excited about.  I think I'll celebrate.
A couple new updates that I think are amazing.
1.)  The new school district that I'll be teaching in is amazing.  I have never been greeted and treated so warmly and positively by an entire group of people in my life.  I can't wait to be a part of this great tradition.
2.)  Ten minutes ago I was named as a finalist in a large lit journal's writing contest.  One in a million and all that jazz...but it still feels great to be chosen as a finalist.
3.)  I've been writing up a storm.  Thank goodness.  Sometimes I get scared that I've lost my creative muse, and then I realize that it's actually just that life has been kicking me in the teeth, and then I get five minutes to myself and create something, and then I feel better, because I still feel like a creative person  :)
My first Master of Fine Arts week-long residency in Port Townsend is finally winding down. It'll be nice to come home, but wow, for the first time in a long time, I'm surrounded by other addicts to language and stories. It's comforting to not have to explain to people "why do you write so much" because we all share this same need and/or calling to create. 

I highly recommend finding an opportunity to surround yourself with people that are passionate, motivated, and a little bit crazy, not just so that you achieve your dreams, but also because there is a strength in numbers and a collective motivation. The realization that there are others out there just like me is comforting.

Now the hard work begins. Next residency in six months. It's time to put on the blinders and turn up the awesomeness.
/