Shopping Cart
Your Cart is Empty
There was an error with PayPal
Click here to try again
Thank you for your business!
You should be receiving an order confirmation from Paypal shortly.
Exit Shopping Cart
I am so bad at updating my website :(   I've slowly pulled away from social media this past year and it feels great. I was getting really burnt out on the whole "writer" thing and maintaining whatever online presence and I just decided to back off and recharge.  Oddly enough, people keep inviting me to speak at things and have beer with them, so I must be doing something right...I just don't know what.
Anyways, I had a blast at the Coast Guard Academy. That was an incredible and curious crowd of cadets. They had me on my toes with some amazing questions.
I had an amazing time at Salisbury College where I got to read to a wonderful crowd of students, and best of all, I got to see my buddy John who was my first poetry professor ever. Glad to see he is absolutely crushing life and is such an amazing teacher.
What else...well, I'll be going to New York City in two weeks again to read for the Headstrong Project's fundraiser again. I have so much fun there and love putting out a positive message to help raise money for PTSD research. It's such a great cause and really gives my life meaning and direction. 

And I get to do a speech at the Columbia Writer's Guild annual conference. That's going to be a blast. I met so many great people there last year. I can't wait to see them again and make some new friends.
Okay, that was my yearly update. See you in late 2016...just joking...maybe...we'll see...
I received a message from one of my student's mothers. It was so nice and sweet and made all my work throughout the year feel validated. Minus the names...it's below.  If you ever get a chance, please thank a teacher. It is an extremely hard and thankless job. It was an absolute challenging pleasure to teach high school students these last two years. I'm a bit sad that I'll be moving on, but also extremely happy to be chasing my dreams. In fact, it was several of my high school students that convinced me to swing for the fence like I keep encouraging them to do.
Hi Mr. Mena! This is _______'s Mom (i lost my own identity when the children were born) ____ and I were just talking about you and I realized that I failed to contact you before you left forever!!! Btw..we're all pretty ticked that you've left us!! I can't tell you what a difference you've made in my daughter's life or the impact you've had on all of ours. You're going to be that teacher that kids remember well into their golden years...the one that really made a difference. Thank-You for taking the time to get to know _____ and laughing with (and I'm sure at her at times) and keeping her excited about going to school! She truly respects and cares for you on a student-teacher level as well as the personal bond you two have. She's learned so much from you and you taught her empowerment and strength. I watched that evolve throughout her Freshman year and it's because of you and the inspiration, guidance and consideration you always gave to her. I am eternally grateful that you were able to be with her during her Freshman year. You've set a standard that's going to be difficult for your replacement to ever achieve. With heartfelt gratitude, we thank-you, Mr Mena and wish you the best success in all your future endeavours. Please stay in touch!
 Thanks, Mr. Mena! You're the best!!
High school has been in session for almost two months now and I have never been happier to be a teacher.  The classes I had last year really drained me.  This year I was assigned the school's Theater Program, the Creative Writing class, the Yearbook class, and Freshman English.  At first I was slightly overwhelmed at teaching four new courses, but the students I have this year have been amazing and some are motivating/teaching me!  
I thought I'd do something different with this blog for a bit.  I'll post what I use in my high school classes as prompts to get my students thinking and writing and we'll just see what happens.
Yesterday, I asked all of my classes whether they valued their education and why.  My "college-bound" students said yes, and that it's important to be able to have a career and do something important.  The majority of my students responded with a "no" because it's been forced upon them since they were little.  
Fair enough.  Then I played the video below.  Then we talked about how easy it is to manipulate the uneducated, and how Hitler did it and gathered power, and why the Taliban want everyone to be uneducated,  and my own experiences in Iraq inside of blown up buildings that used to be schools.  Then I re-asked if they valued their education.  
The no's still said no.  We wrapped up our discussion with a few students verbalizing that they don't really care about an issue until it's happening in their own backyard/city, and that it may not be right, but it's how the teenage mind works these days.  
At least they were honest:
I just received some great news that The New York Times "At War Blog" wants to publish an essay I wrote a bit ago about getting misty-eyed when a Starbucks barista went ahead and payed for my drinks when she saw I was an Iraq War veteran.  It's definitely a great milestone in my career, especially because I've been a fan of the "At War Blog" for such a long time, and let's not forget the five other times I've submitted stuff to them over the years that didn't receive that magical "yes."  Anyways, another year of high school is going to start soon.  It feels like I'm taking that last deep breath before diving underwater again, hopefully to surface in May.  I have several goals this year:
1.  Turn in all my work on time for my M.F.A. program.
2.  Finish the first draft of my novel by Christmas'ish.
3.  Keep a positive attitude, even when students and/or curmudgeonly people in my life try to destroy it.
4.  Do my best to teach my son good sportsmanship and how to learn from every match, win or lose, during this upcoming wrestling season.
5.  Read books to my baby daughter every single night before her bed time.  (She is already trying to read some poetry)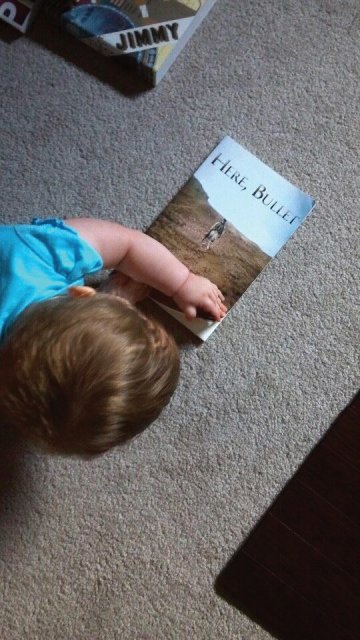 /